Helme Pasture Lodges and Cottages, near Pateley Bridge, Harrogate, North Yorkshire. Cosy scandinavian holiday lodges and delightful self-catering cottages share these twenty-nine acres of private, natural woodland with deer, squirrels, rabbits and an array of bird and plant life. These contemporary log cabins and self-catering cottages nestle at the side of a steep wooded hill on an unclassified country road.
The cottages are fully equipped and are in a superb location with the beautiful Nidderdale countryside all around. Byre Cottage sleeps 2 and Old Barn Cottage sleeps 4. Farmhouse Studio sleeps 2 for couples holidays. The cottages are not ETC inspected now, whilst the lodges are ETC Tourism 4 Stars.
The lodges are set in a natural old English woodland on a Nidderdale hillside, which has won various awards, between the village of Summerbridge and the wonderful National Trust area of Brimham Rocks. The lodges were specifically brought over from Scandinavia to this superb, natural setting. They are set in ancient oak woods and have covered decking overlooking woodland and valley - nature on the doorstep. They are fully equipped with everything needed to make your stay as enjoyable as possible and are open for hire all year round.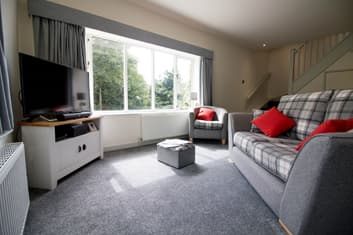 Stone Croft Lodge sleeps 2 + 2. Fern Crag Lodge sleeps 6 + 2 and has wheel chair category 1 accessibility for disabled friendly holidays. The lodges can be booked together for large groups of 10. Hire all 5 Helme Pasture Lodges and Cottages for group accommodation for 18 people. There is ample off road parking and dogs are welcome.